about me
age: 29
home: Tampere, Finland
education
2007 Linnankosken lukio (Porvoo)
2013 HAAGA-HELIA university of applied sciences
languages
hobbies & etc
I like to knit sweaters, do some volunteer work (mostly graphic design & marketing stuff) with a cat shelter, photograph life, train for a half marathon, row a boat on a misty morning, travel less popular locations and bake some cakes for the random Restaurant day.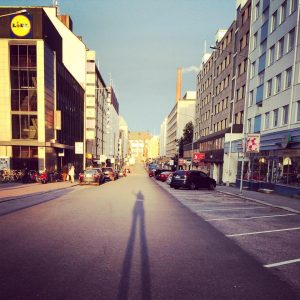 Hi there,
am a graphic & web designer from Tampere. I've got bachelor's degree in marketing and communications from HAAGA-HELIA University of Applied Sciences. My passion lies with smart marketing by compelling content in the right channels the right way. Easy eh? Wrong. Every shoe is different, or should be – to fit.
I enjoy relish in self improvement. It's not the year 1555, one can't just halt and believe to be the master of everything. Currently I work at Oy Aurora Data and Systems Ltd where I've had the opportunity to better myself daily. Set a challenge, beat it, master it and teach others. I got a dance to go with it too. I started as a graphic designer working on a work management system, it's graphic look from logo design to UI-design in desktop and mobile. After a few months I started with web design and have been working on them solely since – for about two years now.
work history after BBA studies
2015- Oy Aurora Data and Systems Ltd
– ad design (print&web)
– event marketing
– graphic design (also graphic elements and logo design)
– web design (and build with extensive CSS customizations)
– online shop design (a few, in WP with WooCommerce)
– community portal (with WP BuddyPress)
– custom posts
– UI design
– WordPress know-how tutoring customers (face-to-face, guide layout and video tutorials)
– social media content planning
– photography
Web design projects @DS: Salpaus Further Education, La Nina eCommerce, HelsinkiSmart, Runda Munken eCommerce, AuroraDS, AuroraPD, Etelä-Suomen laatusaneeraus, Oirearviohack, Pirkanmaa, Ralf Sjödahl, Loviisan asuntopalvelu
2015 Moomin museum / Museum of Art Tampere
– ad design (print&web)
– graphic design
– magazine layout
– web design
– social media content
2015 Meguro Oy
– logo design
– graphic design (graphic design guide and elements)
– ad design (print&web)
– social media marketing
– social media platform design
– marketing & communications planning
– event marketing
– photo & video content
– web design (adobe muse, sharepoint and wordpress)
– online shop (design & build – my cashflow)
2013 Maan ystävät / Friends of the Earth Finland
– ad design
– social media marketing planning
– social media platform design (blog)
freelance
2016 Minna Kulmala photography
Web design
2015 Pisan Eräratsut
Logo design
2014- Loviisan Kehohuoltamo
Logo design, web design, graphic design, ad designs, inserting content, photography and SEO
2014- Kissojen Katastrofiyhdistys KKY ry
Newsletter layout, roll-up, web design work, photography
2011 Minna Kulmala photography
Logo design
graphic design
Graphic guide
Web
Print
Logo design
web design
marketing & communications
Planning
Analyzing
Promotion
Content
Adobe InDesign
Adobe Acrobat Pro
Adobe Illustrator
Adobe Lightroom
Adobe Photoshop
Adobe Muse
Adobe Premiere Pro
Adobe Dreamweaver
Theme customization
Content build
CSS customization
Plugins & Embeds
SEO
Custom Posts
Shop (WooCommerce)
Instagram
Pinterest
Facebook
Twitter
YouTube